03/28/05 - Rich sent in 6 pictures of his clean, good lookin' '86 BLUE Radian, along with some background info and tales of his travels and adventures. Very cool. Thanks, Rich!
*Update* - 11/01/06 - Rich provided two new photos of his current Radian (the blue one) and his friend's Radian (the black one). They are the bottom two thumbnails.
*Another Update* - 03/02/08 - Rich provided three new photos of himself taken during a recent photo shoot he and a friend did for fun :-) They are the bottom three thumbnails. Thanks again, Rich!
*Update* 05/30/11 - "It's always nice to have a spare handy". Rich has been lucky enough to have more than one Radian, and he's well prepared for any problem that may arise. Radian motors are really tough, but just in case... Rich is ready! (see bottom photo). Thanks, Rich!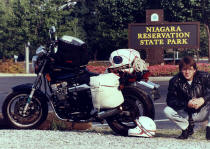 Pic1: A shot of me and my '86 Radian, in about Sept 1991. I was about 25 back then. The radian had about 10,000 miles on it. At this point, I was about a week into a cross country loop that ended up being about 7500 miles. Luggage is 2 saddlebags (I made them myself), tank bag, and a bungie net for misc. BS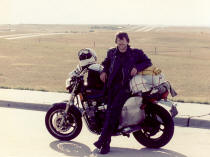 Pic2 about 2000 miles into the trip....just outside the badlands of South Dakota...looking west from a reststop on the main highway, just before I got caught in an absolutely hellacious rain / wind / lightning / hail storm that I ever rode through......I was able to see the storm coming across the prairie for about 45 minutes before it hit, as I hung out here and played frisbee with a coupla guys who were on their way from Manhattan to Montana....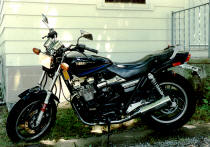 Pic3 Beauty shot of My '86 Radian. MMMMM purty, ain't it? Blue Radians Rule! Red Radians SUCK! Black Radians....hmmmm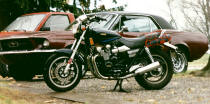 Pic4: 2 classics, '86 Radian and '67 Mustang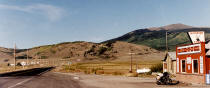 Pic5: The Radian parked at the Jefferson Store, somewhere in Colorado....It looks kinda like we are near the mountains, on the prairie, but actually, we are way way way up in the mountains, on a plateau...it was stunning...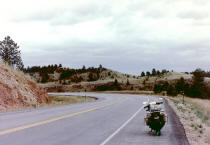 Pic6: here is the '86 parked on the side of the road in the Teddy Roosevelt Natural Forest. not pictured: lots of buffalo
These are pics of my (new) Radian (the blue one), and a radian owned by a friend of mine...formerly owned by another friend...
They look good together, no?
Blue is 1986, 10,500 miles, the black is 1991, 20, 000-ish miles.
Cheese
"It's always nice to have a spare handy"