From: Jerry KXXX [mailto:jking38@tampabay.XX.com]
Sent: Wednesday, April 05, 2006 8:45 PM
To: badrad600@cs.com
Subject: BADRAD600
You must have gotten a ton of this same request. The front fairing on this beast is only seen one other ORIGINAL time (see Google Images). The kicker is, where does that fairing come from? The original photo (Google) was a post from Britain, but I have never found a link to such a fairing. So, can you give me a contact to the owner, or are you just posting Google images? BTW, a much better site than the lame Yahoo User Group. Add some "pro" and "novice" question and answer forums. Keep dipshit wanna-parts-mechanic salesmen to another forum, i.e. Add a "I want this part" link and identify the contributors as solicitors.
Then keep on do'in what you're doi'n!!
But no fake gallery stuff, Okay?
___________________________________________________________________________________________________________________________________________________________
From: Russell
Date: 04/05/06 22:52:47
To: 'Jerry KXXX'
Subject: RE: BADRAD600
Hello there. Thanks for the kind words. Iíve seen a few photos of Radians with fairings, but not many. To which photo, exactly are you referring? I believe Caddenís Radian and Shahramís Radian are the only ones on my site that appear to be original factory fairings. Caddenís photos, I believe, came from one of the Yahoo groups. Shahram email the photos of his bike to me sometime back in October í05. I may have Shahramís email address, but Iíd have to dig through the archives. Both of those guys are Radian group members, or at least were at one time, I think. You may be able to post a message to the Radian group to get an answer. None of the photos on the site were obtained from doing a Google search. Almost all of them were either posted at one time or another to one of the Yahoo groups. A number of them were sent directly to me by Yahoo group members. There are a couple of guys that sent photos to me at my request, when I saw their Radians up for auction on eBay. I email the sellers to ask if they had any pictures theyíd like to share, and they graciously obliged. George is one of them (the purple Radian with the rose painted on it), and Don L. is another. Iíve considered adding a forum to the site, and/or more tech advise- perhaps some illustrated directions, etc. As time allows, I may get some of that going in the future. Thanks again for the compliment, and if you ever have any photos youíd like to add to the site, feel free to send them. Iíd be more than happy to post them for you.
-Russell
___________________________________________________________________________________________________________________________________________________________
From: Jerry KXXX [mailto:jking38@tampabay.XX.com]
Sent: Thursday, April 06, 2006 9:43 PM
To: Russell
Subject: Totally Appreciative
Did I spell that right?? A real reply?!? To answer the first question , to which you already know the answer, is the BADRAD600 .jpg. Shahram might truly be the original owner of this VFR styled fairing on a Rad, but it did appear long ago on Google Images. Not a big deal. He/She could have posted the pic in some other format/purpose. But that is a totally cool Euro F Fairing. Not the SquareBox upright POS from Yam. It might be a bit of the old backyard geez-I-got-these-FZR parts hangin around, and, damn he did a real cool job! So, what's it gonna cost me to have you "dig through the archives" to find this mystery rider? I mean, there are absolutely no other pics of any Rad with this type of fairing except what I have noted to you, sooooo. If you have this Rad owner's contact (current) sell it to me. Just that simple. No BS, just the facts, mam. If you are sure of a positive currrent contact address, tell me what it is worth.
Once again, a real Thank You for responding.!
Your Links are TOOO and WAAAy beyond what anyone else has going. I did not know those articles existed! Bet 90 percent of the bargain basement buyers have no clue where the Rad figures into Moto History!!
Keep this bike alive.
Thanks.
___________________________________________________________________________________________________________________________________________________________
From: Russell
Date: 04/07/06 00:36:33
To: 'Jerry KXXX'
Subject: RE: Totally Appreciative
Hello again, Jerry.
HmmÖ if itís Shahramís bike youíre interested in, Iíll try my best to find an email address for him. The thing is, since October 2005 when he sent those pictures, Iíve done a re-format and clean install of the OS on my main PC. I do create backups of my email, but, at the moment, Iím unable to find a backup from that time frame. Iíll keep looking, and if Iím able to track him down, Iíll be sure to let you know. ÖAnd, I wouldnít charge you anything. If I can find an address and contact him, Iíll let you know.
-Russell
___________________________________________________________________________________________________________________________________________________________
From: Jerry KXXX [mailto:jking38@tampabay.XX.com]
Sent: Friday, April 07, 2006 11:42 AM
To: Russell
Subject: RE: Totally Appreciative
Many Thanks for your efforts. Of course, with all the effort and time you have spent on this site, you wouldn't want to get totally disrespected on the entire planet just because one guy sent you a Photoshop'd pic of a Rad in drag.
I really suggest strongly that you look at those .jpgs closely. And think about the fact, that not all Rad owners are idiots. Since there are absolutely NO OTHER such front fairings ANYWHERE on the net, maybe you would want to
(1) question the submission as totally suspect, and
(2) if your HardDrive reformat lost the original info you MIGHT want to stick to publishing things on your site that you can verify...unless you want to become known as a FAKE AND UNRELIABLE SOURCE, and
(3) Since you are hosting on cs.com, there is a complete archive of where this post came from, all you would have to do is request the archive, your CPU is irrelevant
(4) Since you are responding from SMTP address BADRAD600@cs.com, the same URL as attached to the .jpg, I absolutely know you are FULL OF SHIT. That is your post, your pic. I'm going to document this info on every Rad user group and expose you to the humiliation you deserve.
Or you can send me proof this host site is shutdown ASAP and you can try to do something useful for Rad owners without being known as a con-artist.
Or you can provide documentation to that fairing.
I'll give you about 48 hours to get it right.
___________________________________________________________________________________________________________________________________________________________
From: Russell
Date: 04/07/06 14:36:49
To: 'Jerry KXXX'
Subject: RE: Totally Appreciative
Would you please tell me what in the hell you are talking about? I am just trying to be nice here, and you are coming off as a total idiot, and a complete asshole. Iím not in this for the money. I started the website just to share information and photos of Radian ownerís bikes. If you donít like it, you donít have to visit the site. ÖAnd I STILL am not even sure what photo you are talking about for sure. Are you talking about the photo you sent as a background in your first email? If thatís the case, itís the first time Iíve ever seen the photo in my life. If you are referring to one of the photos on my website, please indicate which one for sure, so Iíll know what youíre talking about. Iím sure all the photos that were sent to me are real, and not photo-shopped. Yamaha DID make a fairing for the Radian, although they were not common. They occasionally come up for auction on eBay, and a few members actually have them. Some of the fairings are not factory original, and some are. I am not going to shut the site down. If you like it, fine. If not, piss off.
-Russell
____________________________________________________________________________________________________________________________________________________________
From: Jerry KXXX [jking38@tampabay.XX.com]
Sent: Friday, April 07, 2006 5:15 PM
To: Russell
Subject: RE: Totally Appreciative
Attachments: John Doc Me and Steve.jpg
The photo is as I previously ID'd to you, in your gallery as BADRAD600, has the same freaking SMTP that you use as an email address. I mean you do know what SMTP protocol is, or are you really THAT dumb?
Yes, Yamamammy did make a faring for the YX600, but there is only one FACTORY fairing.
That fairing was for the '86 '87 models and has a square headlight nacel. Yam discontunued the fairing totally when they went to the round headlight in later production. And the fairing in question is neither round nor square, but a part of the FZ and FJ series which are exo-framed bikes. There is NO possible way to mount that fairing on a Radian, because the fairing braces require mounting points under the tank and to the frame where there just simply does not exist any such frame point on the Radian.
There are three UNIVERSAL type non-OEM fairings that are distinctly not square, and they do not have the left/right "Ninja style" headlight profiles of the bike in question. So again, it's fake. And since the jpg is titled BADRAD600 and your email address id BADRAD600.....You're fake. Simple.
You want me to 'piss off''? Well, I'd suggest you do a litle research on my backround, since I've been a Yam Certified Tech since 1987.
In the process I'll post your fake shit to every Radian Board, and you just might get an invitation to show up at a civil suit from Momma Yam. As a Certified Tech I think I have a little more juice than you do. But if you want to put it to the test, just bring it.
Do you really want to go the distance??
I mean how damn dumb can you be? You post a picture in your gallery labeled BADRAD600 and you use an SMTP (email address, idiot) of BADRAD600. There's only one gallery listing for BADRAD600 and only one email SMTP for BADRAD600.
What, did reformatting your harddrive wipe out your basic common sense? What other picture in your gallery is titled BADRAD600? Who else is the whole fucking world has the same (impossible) email(SMTP) address of BADRAD600?
You are a con-man, a fake, and worst of all, you might even ride a YX.
My home address is XXXXX Weatherstone Drive, Tampa, FL 33618.
PULLEEAASE drop on by for a free and totally complete ass-kicking. If I'm not home at any given hour, my little 14 y/o daughter will gladly kick your ass down the street and the neighbors will happily vid your lame-ass being evicted. I mean you have to be a seriously penis-impaired individual to think any knowledgeable 'net person, let alone someone with factory certification, would believe your bullshit.
ENOUGH!
Here's the real deal. You've got a .jpg titled BADRAD600. I can find it off-server, you can find it the same or on your page directory. You don't need an IQ over 90 to find that on your own website!! I did! Your email (SMTP) of BADRAD600 is the same, and it's the only one in the whole fucking world that is the same as that .jpg!! Go figure!! And the .jpg is linked via HTML to your email smtp. So let's see here, you use the email BADRAD600 and you have a gallery photo jpg of BADRAD600 and don't you get it??????
There is only one conclusion. Do you just love being soooo dumb as to keep on pretending?? Did your Mama buy that crap when she first caught you jacking-off, and are you still trying to live the lie?
Now how can you possibly expect anyone to NOT think you're a fake??
And thanks for your reply, it just helps sooo much when I post to the Radian boards to prove you are a poser.
And BTW, you're right, I don't have to view your 'site...
But I CAN show everyone else that you are a fraud, so they also don't go there, and then where is your gratification for a site that no one gives-a-fuck about?
HMMM that up your ass.
Take down the BADRAD600 .jpg and ditch the email SMTP by the same name.
Consider it damage control and just good common sense.
For your further consideration a little family .jpg is attached. I'm the goofy looking guy third from the left. The other guys are cousins, except for the blond dude on the right which is brother Steve with a beer can in hand. Which is much better than the Buck knife he usually twindles around. Anyway, being the terribly small and shy kinda guy I am, please feel free to drop by and get an introductory offer to the Emergency Ward at Tampa General Hospital. I'm sure you think you're a hard ass, but unless you're 6'7" and 240 lbs, you just might want to get cool and buy me a soda instead of getting radical. But it's your choice. Hey, I travel to almost every biker night in the state of Florida and I'll introduce you to some really serious people if you would like. I'll send you my schedule so we can hook up and party-hearty. I like that one-on-one sort of interaction, knowwhatImean, webdude?
Now before you go on to write back with some pitiful response, consider how much better it would be just to ditch the BADRAD600 jpg (that you claim you can't verify but everyone else can find on your site!!) and ditch the BADRAD600 email address that you claim is not associated with that same jpg(but is the exact SMTP protocol address of your emails). Either you got your I'net experience from a Vo-Tech school or you skipped a few important classes!
So ditch the BADRAD600 pics and email address. That way, if you and I ever meet at a Bike Week or Biketoberfest or the DeathValleyTour or the Branson Run or any of the other regular kinds of things, you won't have to go home on a stretcher in the back of an EMT transport.
I can understand your desire to impress other YX600 owners, but,
Just get real.
Your very best friend, and I can't wait to meet you, Jerry.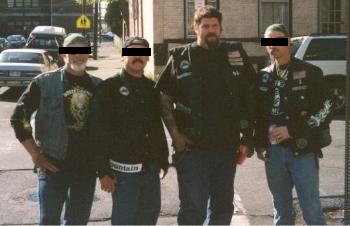 ____________________________________________________________________________________________________________________________________________________________
From: Russell [badrad600@cs.com]
Sent: Friday, April 07, 2006 7:02 PM
To: 'Jerry KXXX'
Subject: RE: Totally Appreciative
Hey again, Jerry-
There is no jpg file on my website named badrad600 .jpg. My website is indeed badrad600.com, and my email address is indeed badrad600@cs.com. That part is clear. There is no picture named badrad600 on the website- not MY website, anyway. I never asked to get into an argument with you. When you emailed me asking about a picture, I was quite willing to help you out with any information I could provide. When I said I wiped my drive, it was the truth. I use Microsoft Outlook to check my mail, and before I wipe a drive clean and start over, I export all my old mail to a .pst file and save it in case I need to go back and look at something in the past. Currently I am unable to find a .pst backup that would have emails from Octorber í05, when Shahram sent me those 2 pictures. Compuserve regularly deletes mail from their server. Iíve never contacted them to see if they keep a record of old email. The website has nothing to do with my email address, except for the name. It is hosted by a completely different company. I was, in fact, able to find contact information for Shahram, and, in fact I did exchange email with him. That is, assuming of course, that the picture you keep referring to as ďbadrad600 .jpgĒ, (which does not exist- at least on MY website), was of Shahramís Radian. Which makes me wonderÖ are we even talking about the same website? You say the badrad600 jpg is linked to my email smtp. I didnít link a picture on my website that would bring up an email address- at least I donít remember doing it. My website is www.badrad600.com . Is that where youíre saying thereís a picture named badrad600 linked to my email address? If someone else on another site has a picture named badrad600 with a link to my email address Iíd like to know about it. Iím just trying to get on the same page youíre on. None of this is making sense to me. Please enlighten me. If you can find that picture easily, linked to my email address as you said, please send me the URL (link) to that exact web page. Iíd really like to see it. As it stands right now, I really donít know what youíre talking about.
-Russell